About our program
Agape Petite Ballet is a division of Agape Dance Academy. Our Petite program instills the foundation of a life-long love and skill for the art of dance, and perfectly prepares our littlest dancers for graduation into our highly acclaimed graded pre-professional program where that foundation will be built on to prepare our students for a career in ballet.
We firmly believe that ballet is a beautiful gift for any age, even in infancy! We begin our program with our ever popular Babywearing Ballet class for mothers and their infants. These precious babes will advance into our Mommy & Me classes when they reach 18mths - 2years old, and finally into our Petite Classes.
Our Babywearing Ballet class is a great way to ease your post-partum bodies back into alignment while experiencing precious bonding time with your baby.
Our classes are designed with baby-friendly, low impact toning, cardio, and stretching excercises. Relaxing classical music will assist you to unwind and is comforting for baby too!
No ballet experience required, you will learn easy to follow basic ballet technique! Yoga attire is recommended, babywrap/carrier is required as well as ballet shoes or grippy socks.
Enjoy a delightful time of light stretching, basic ballet movement, & classical music with your little one in our Mommy & Me class.
This class instills the building blocks of body coordination and awareness that prepares them to davance to our Petite 3 & $ classes. Build friendships with other mommies and toddlers in the community in this pleasant imaginative and creative social environment. Ages 18mths - 2yrs.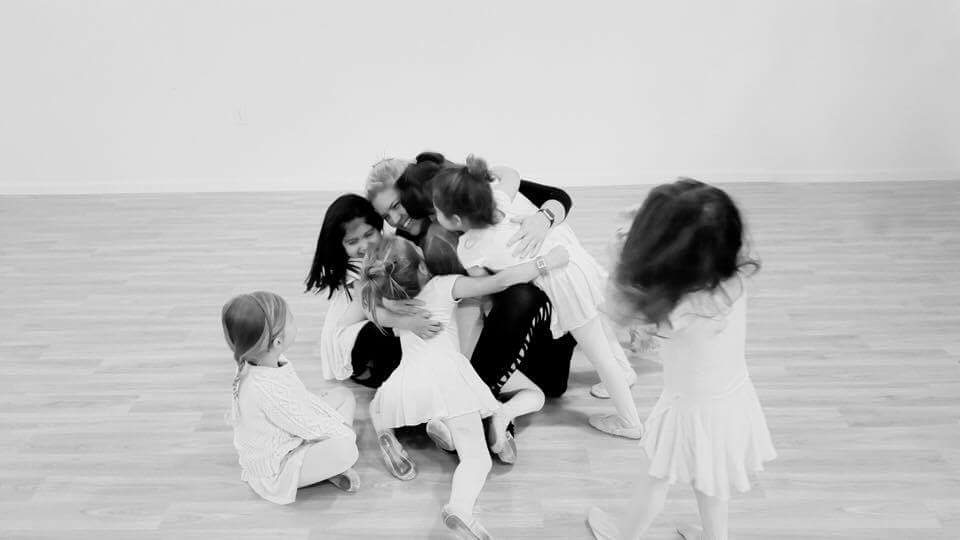 In this class, we begin introducing French terminology and introductory ballet positioning for arms and feet according to the Royal Academy of Dance standards.
Our classes are themed after the great ballets: Don Q, Swan Lake and Slleping Beauty. We also offer classes that include a time for tap for rhythm and coordination awareness. This level will also have the opportunity to perform in our annual Petite Nutcracker.
This class greatly builds on the ballet basics established in the former Petite level class. This class introduces a higher degree of technique preparing students for graduation into the graded levels in Agape Dance Academy.
They will be introduced to barre work, light muscle building, and fun choreography and an opportunity for lead roles in our annual Petite Nutcracker.
The Petite Nutcracker is our brilliant miniature production of the beloved classic ballet "The Nutcracker". This performance has been created especially for our youngest dancers ages 3-7 in our Agape Petite Ballet program.
We also include a fun audition day for dancers to experience and become familiar with the audition process, All dancers will receive a dancing role!
5 reasons why we love
ballet for children
1
builds up confidence
Dancing to beautiful music builds confidence even in shy children. Being encouraged
by peers and supportive teachers builds trust. Leading up to performing
on stage for friends and family bring out the best in young dancers!
2
Improves focus
Ballet classes have a perfect balance between structure and freedom of movement.
As the child learns routines, patterns and specific movesand positions,
they develop focus and concentration of their abundant energies!
3
Benefits their health
Ballet is a wonderful boon to health. Developing a love of dance gives the dancers
fantastic excercise, strength and flexibilty training all while having fun and being filled with joy!
This love of excercise will become a part of them and be a benefit to them long into their adulthood.
4
Develops social skills
Character development and comraderie. Working towards common goals with
other dancers produces friendships that last a lifetime. Ballet also has a culture
passed down through the ages of an environment of respect, dedication, punctuality,
reliability, discipline and many other teamwork skills that last a lifetime.
5
Provides education
Although we fully realize and thus implement creative movement and imaginative
ballet into our pre-school curriculum, we are also laying the foundations for the
beautiful art and culture of classical ballet that will be a part of the students' cultural
development all of their lives. Our curriculum is based on the greatest ballets of all time
and danced to the music of the greatest composers of all time. Imagine your dancer learning
french terminology, ballet movements and positions and dressed in a uniform just as if they
were at a professional school. The perfect blend of structure and freedom of movement.